A Walk through Art History by HSU Students
5 – 19 Dec 2022
G/F, Library, S H Ho Academic Building, HSUHK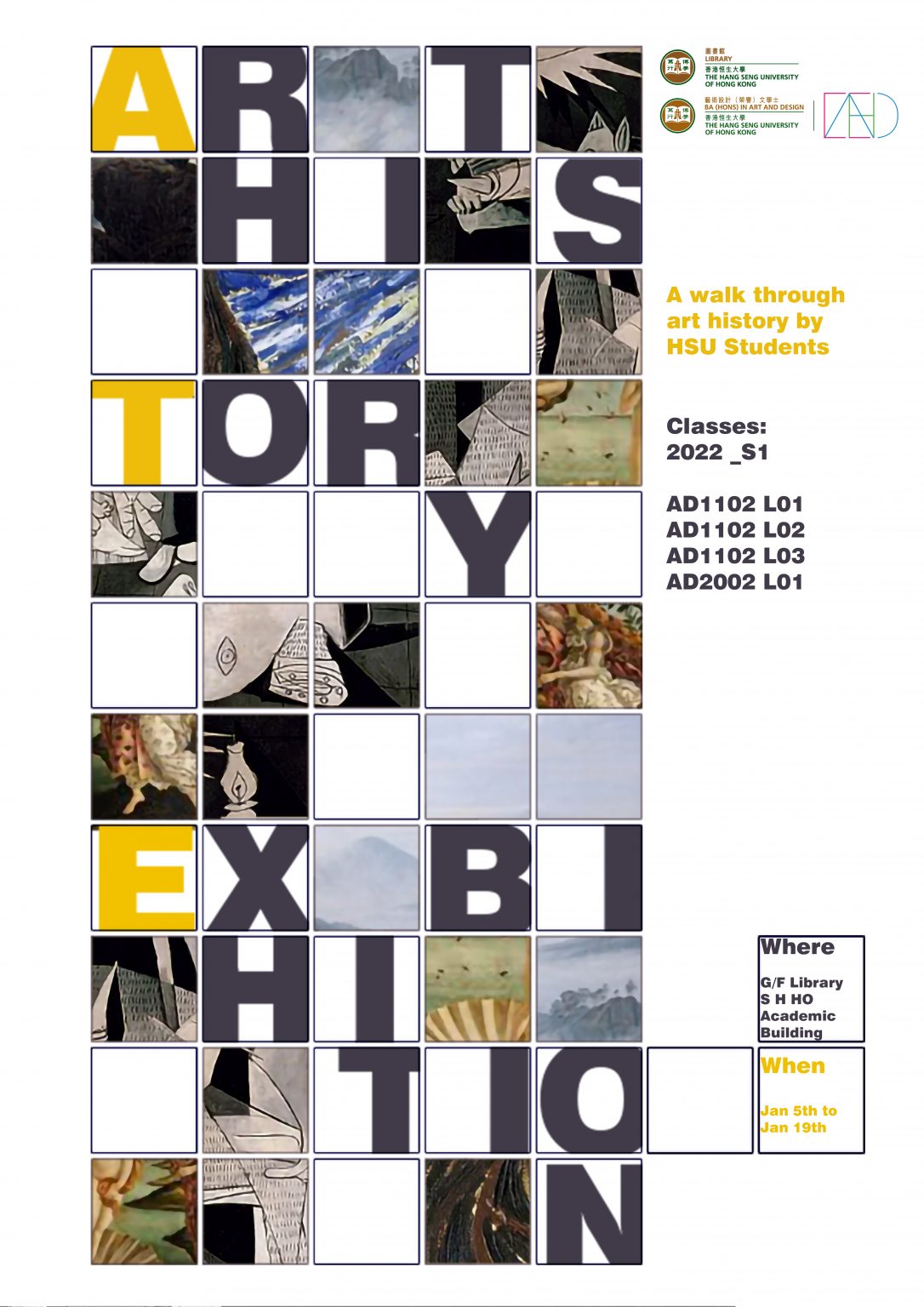 Looking at art from the past contributes to who we are as people.
By looking at what has been done before, we gather knowledge and inspiration that contribute to how we speak, feel, and view the world around us.
Art history is a subject valuable for every human being, especially those involved in art to some extent. It provides a means by which we can understand the past and its relationship to the present. The act of making art is one of the most universal activities of civilization and by studying it we can learn to create a connection with the past, orient ourselves in the present while developing a love for beauty.
With this idea in mind, my course on History and Theory of Art and Design AD1102 AD2002 is aimed at students who want to learn about this rich and fundamental strand of human culture. 
The module intended to introduce students to a general and comprehensive knowledge of the history and theory of art and design from ancient pre-classical time till now, covering subjects of visual arts including painting, sculpture, crafts, design, furniture, interior, architecture, infrastructural buildings, and projects to city planning and landscape design.
To explain the evolution of ideas and influences of artists and designers in response to the cultures of their times we studied texts and treatises as well as images of artwork, artefacts, and architecture.
What I intended to convey to the students are five major goals:
_ Comprehend the tradition and development in art and design and their importance and significance to the historical, cultural, philosophical, and social orders
_ Explain their relations to production and enterprising and hence their role in the shaping of our identity, taste, and values as well as economy and policies
_ Develop critical ability by analyse the diversity of values and interests, inter-cultural sensitivity, a balanced view of local and global issues, literacy in comprehending different visual and design meanings and forms
_ Examine the importance and significance of the interdisciplinary nature of art and design
_ Evaluate and assimilate experiences and lessons from both the past and present towards developing creative capacity
To help the students reach their goals, the theoretical lessons had been organised as a chronological journey in the history of art. in this exhibition we collected all the best illustrations, descriptions and models to illustrate this walk through art developed by the students.
Laura Cavanna
Lecturer,
Department of Art and Design