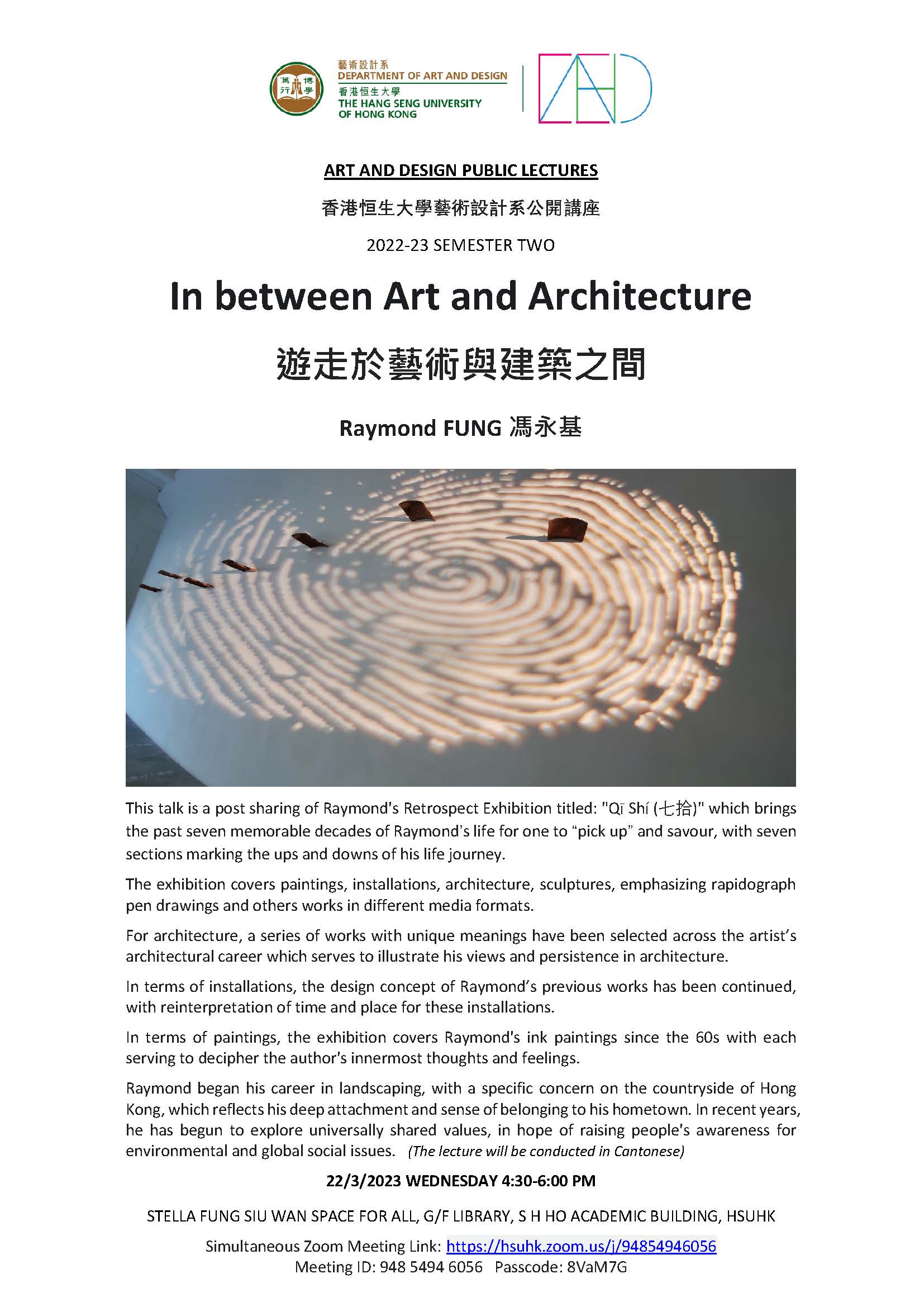 Art and Design Public Lecture 'In between Art and Architecture' by Raymond FUNG
This talk is a post sharing of Raymond's Retrospect Exhibition titled: "Qī Shí (七拾)" which brings the past seven memorable decades of Raymond's life for one to "pick up" and savour, with seven sections marking the ups and downs of his life journey.
The exhibition covers paintings, installations, architecture, sculptures, emphasizing rapidograph pen drawings and others works in different media formats.
For architecture, a series of works with unique meanings have been selected across the artist's architectural career which serves to illustrate his views and persistence in architecture.
In terms of installations, the design concept of Raymond's previous works has been continued, with reinterpretation of time and place for these installations.
In terms of paintings, the exhibition covers Raymond's ink paintings since the 60s with each serving to decipher the author's innermost thoughts and feelings.
Raymond began his career in landscaping, with a specific concern on the countryside of Hong Kong, which reflects his deep attachment and sense of belonging to his hometown. In recent years, he has begun to explore universally shared values, in hope of raising people's awareness for
environmental and global social issues. (The lecture will be conducted in Cantonese)
22/3/2023 WEDNESDAY 4:30-6:00 PM
STELLA FUNG SIU WAN SPACE FOR ALL, G/F LIBRARY, S H HO ACADEMIC BUILDING, HSUHK
Simultaneous Zoom Meeting Link: https://hsuhk.zoom.us/j/94854946056
Meeting ID: 948 5494 6056
Passcode: 8VaM7G
Video Recording
Cantonese:
English: