Art and Design Public Lecture 'In Between Self-reinforcing Strength & Co-creation: the Significance of Community Art'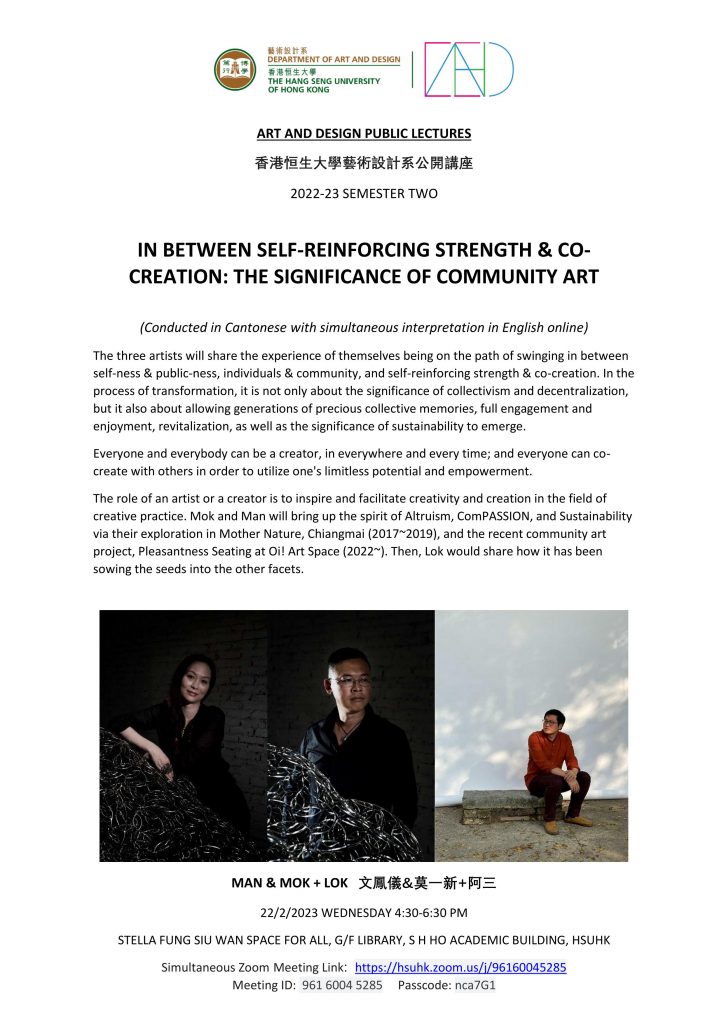 The three artists will share the experience of themselves being on the path of swinging in between self-ness & public-ness, individuals & community, and self-reinforcing strength & co-creation. In the process of transformation, it is not only about the significance of collectivism and decentralization, but it also about allowing generations of precious collective memories, full engagement and enjoyment, revitalization, as well as the significance of sustainability to emerge.
Everyone and everybody can be a creator, in everywhere and every time; and everyone can co-create with others in order to utilize one's limitless potential and empowerment.
The role of an artist or a creator is to inspire and facilitate creativity and creation in the field of creative practice. Mok and Man will bring up the spirit of Altruism, ComPASSION, and Sustainability via their exploration in Mother Nature, Chiangmai (2017~2019), and the recent community art project, Pleasantness Seating at Oi! Art Space (2022~). Then, Lok would share how it has been sowing the seeds into the other facets.
22/2/2023 WEDNESDAY 
4:30-6:30 PM
STELLA FUNG SIU WAN SPACE FOR ALL, G/F LIBRARY, S H HO ACADEMIC BUILDING, HSUHK 
Simultaneous Zoom Meeting Link: https://hsuhk.zoom.us/j/96160045285 
Meeting ID: 961 6004 5285 
Passcode: nca7G1
Talk by MAN & MOK + LOK 文鳳儀&莫一新+阿三