CONCEPTUAL PRACTICE -Research and Pedagogy in Art, Design, Creative Industries, and Heritage Vol. 1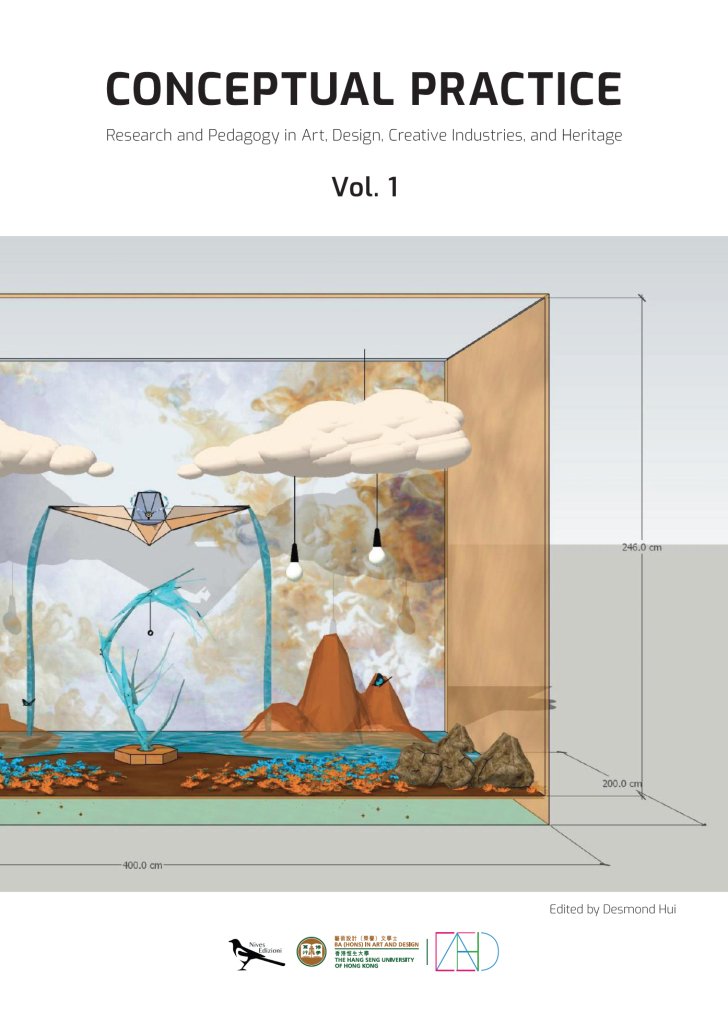 Research and Pedagogy in Art, Design, Creative Industries, and Heritage Vol.1
This book is a collection of essays on the research and pedagogy of art, design, and creative industries carried out by the academic staff of the Department of Art and Design (AAD) at the Hang Seng University of Hong Kong (HSUHK) since its founding in 2020, which was predated by the first set up of the BA in Cultural and Creative Industries (BA-CCI) programme – one of the two undergraduate programmes under the department – at the institution in 2017. The other programme of BA in Art and Design (BA-AD) was launched in the same year of 2020, and both programmes have been recognized as pioneering in Hong Kong and the region.
We have chosen the name "Conceptual Practice" to describe the essays, simply because we believe the importance of both terms – concept and practice – in the creative disciplines. This rationale as an underlying philosophy in the teaching and research of art, design, and creative industries of the department has been enshrined in the course modules of the two programmes, dialectically positioned also to educate two different but equally important knowledge and skill sets in the professions – management and creativity. Most essays are authored by the colleague in charge of his or her own course modules or research projects, aiming to expose the unique theory and methodology involved, and often feature samples of work by the colleague and the students.
This publication is the first volume reflecting cumulative efforts of both programmes – 5 years for BA-CCI and 3 years for BA-AD – and the intention is to continue production with subsequent volumes. We hope that by publishing the results of our work as exploration and experimentation of a unique approach to research and education, there might be feedback and exchange for improvement and further development, which we very much welcome.
Tabel of Contents:
City Brands and Hope: Engagement and Contemplation in the Art and Design Studio by Desmond Hui
Everyday Experience and the Creation of the Environment: Three Lessons from The Little Prince by Desmond Hui
Designing Augmented Reality Picture Books for Children by Rochelle Yi Hsuan Yang
How Futuristic is the Future? by Mauro Arrighi
The Gaze by Mauro Arrighi
Why Fly? Or, Can Airborne Sculptures Think, and, if so, Who Cares? by Samuel Swope
Here Comes the 'Big Waster'! by Christine Choy
Retro.HK Gaming Expo 2022 at HSUHK by Christine Choy
Technology, Art and Compassion by Lo Wan Ki
Doing Heritage by Mok Kin Wai Patrick
The Evolution of World Heritage Management by Richard A. Engelhardt
A Journey of Art History through the Eyes of the Students by Laura Cavanna
The Meta-sense Garden: Redefining Sensory and Spatial Experience in the Post-COVID Era by Desmond Hui, Laura Cavanna, Mauro Arrighi, Rochelle Yang, Samson Wong
Architectural Metamorphosis by Desmond Hui, Laura Cavanna, Slimane Ouahes, Wong Pak Hang Samson
ISBN: 9791280520227 (EU) / 9791280520234 (US)
Publication date: 2nd January 2023