Art and Design Public Lecture 'Case in Nomadic Cultural Context' by Damba GANTUMUR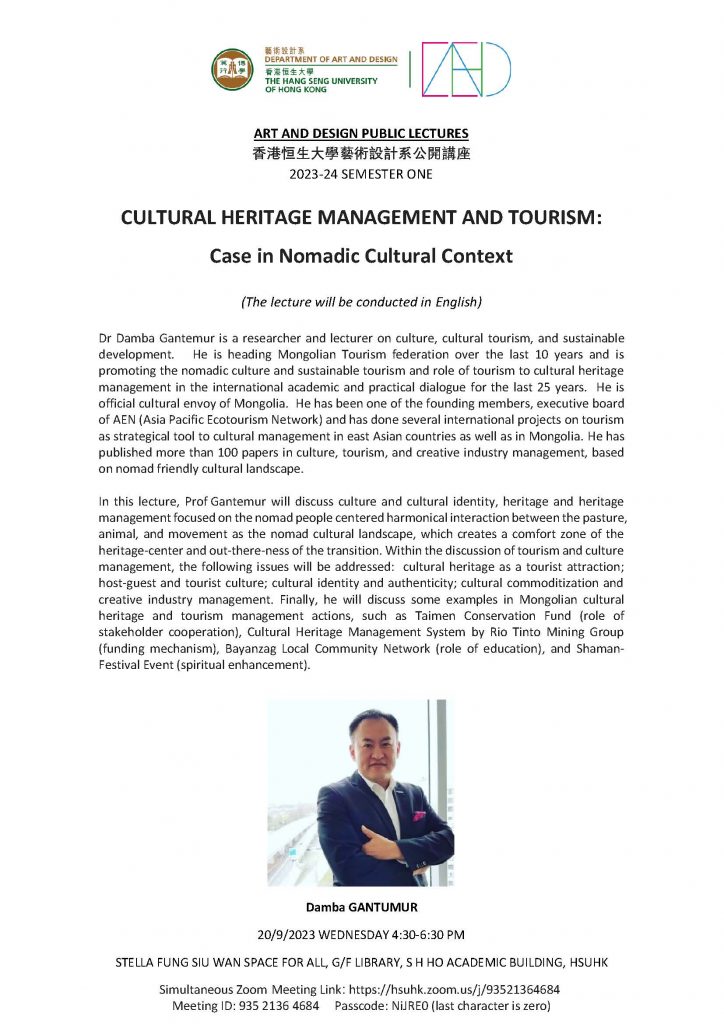 (The lecture will be conducted in English)
Dr Damba Gantemur is a researcher and lecturer on culture, cultural tourism, and sustainable development. He is heading Mongolian Tourism federation over the last 10 years and is promoting the nomadic culture and sustainable tourism and role of tourism to cultural heritage management in the international academic and practical dialogue for the last 25 years. He is official cultural envoy of Mongolia. He has been one of the founding members, executive board of AEN (Asia Pacific Ecotourism Network) and has done several international projects on tourism as strategical tool to cultural management in east Asian countries as well as in Mongolia. He has published more than 100 papers in culture, tourism, and creative industry management, based on nomad friendly cultural landscape.
In this lecture, Prof Gantemur will discuss culture and cultural identity, heritage and heritage management focused on the nomad people centered harmonical interaction between the pasture, animal, and movement as the nomad cultural landscape, which creates a comfort zone of the heritage-center and out-there-ness of the transition. Within the discussion of tourism and culture management, the following issues will be addressed: cultural heritage as a tourist attraction; host-guest and tourist culture; cultural identity and authenticity; cultural commoditization and creative industry management. Finally, he will discuss some examples in Mongolian cultural heritage and tourism management actions, such as Taimen Conservation Fund (role of stakeholder cooperation), Cultural Heritage Management System by Rio Tinto Mining Group (funding mechanism), Bayanzag Local Community Network (role of education), and Shaman- Festival Event (spiritual enhancement).
mselves for art and culture – they depend on what we do with them.
11/4/2022 TUESDAY 4:30-6:30 PM
STELLA FUNG SIU WAN SPACE FOR ALL, G/F LIBRARY, S H HO ACADEMIC BUILDING, HSUHK
Simultaneous Zoom Meeting Link:  https://hsuhk.zoom.us/j/93521364684
Meeting ID: 935 2136 4684
Passcode: NiJRE0 (last character is zero)