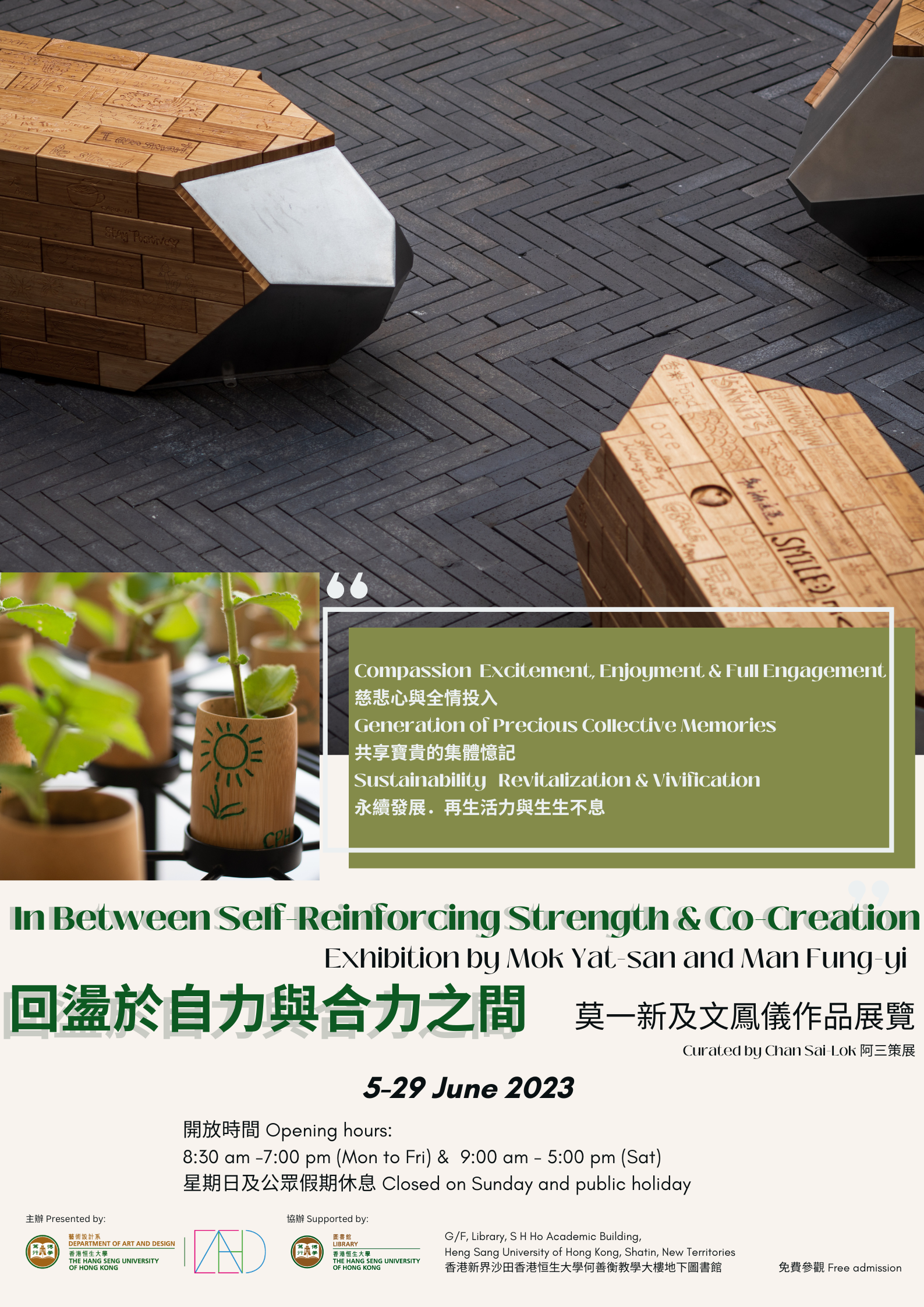 'In Between Self-Reinforcing Strength & Co-Creation' Exhibition by Mok Yat-san and Man Fung-yi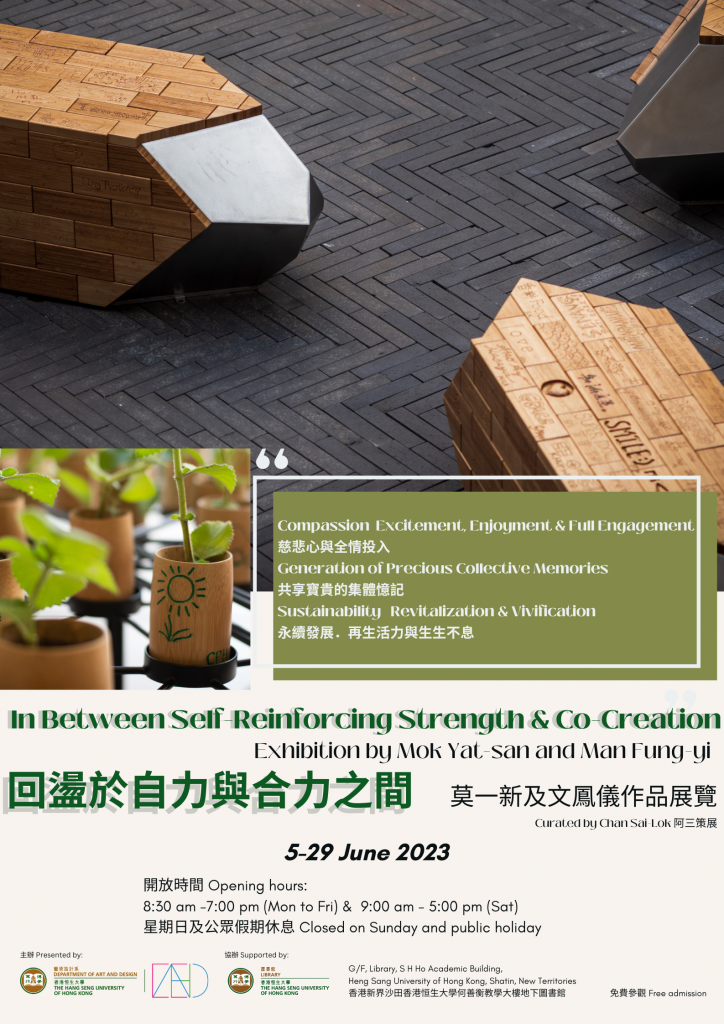 《回盪於自力與合力之間》莫一新及文鳳儀作品展覽
'In Between Self-Reinforcing Strength & Co-Creation' Exhibition by Mok Yat-san and Man Fung-yi
阿三策展 Curated by Chan Sai-lok
香港恒生大學藝術設計系主辦 Presented by Department of Art and Design, HSUHK
大學圖書館協辦 Supported by HSUHK Library
日期 Date: 5 – 29 June, 2023
開放時間 Opening hours:
8:30 am – 7:00 pm (Mon to Fri) ; 9:00 am – 5:00 pm (Sat)
星期日及公眾假期休息 Closed on Sunday and public holiday
地址 Address:
香港恒生大學何善衡教學大樓地下圖書館
G/F, Library, S H Ho Academic Building, Heng Sang University of Hong Kong
開幕 Opening: 5:00 pm on 5 June (Mon)
莫一新與文鳳儀分別從事繪畫、雕塑及當代水墨等創作,近十多年開始積極參與本地及海外公共藝術計劃,並思考如何透過藝術介入社群。
是次展覽作品關注正念思維、心靈健康與社群藝術,一切由莫、文二人在泰國清邁墾鑿「心田」開始。兩位藝術家舉家暫別繁囂城市,在田野回看自身,體察自然,重新學習生活。「種植」喻作日常生活中的修心煉性,感悟生命的起始生滅;他們又在郊外用竹研發環保物料,成為這批作品的基本素材。這種結合洗滌心神和反思藝術的歷程,除了給予自己與他人能量,亦強調人與人彼此間的回盪。回盪似是共振,無分你我忘掉主客,以藝術之名周而復始,來回往還連繫社群,匯合經驗。他們邀請觀眾在竹磚上刻下寄語,集腋成裘轉化意念為長櫈;而布塊上的字句,則是從觀眾栽種觸手香上的竹杯拓印出來。展覽空間,遂變成社區閒適的角落。
香港恒生大學藝術設計系邀請莫、文二人進駐大學校園,向學生、教育界同仝及周邊社群介紹這個美麗的概念。圖書館是閱讀、思考、追尋知識及切磋學習的場所,展覽因而同為培育美感、創意和建立人際網絡的地方。值得一提的是,近十位該校學生參與籌備及導賞工作,藝術家與莘莘學子攜手播下另一塊心田的種子。
Mok Yat-san and Man Fung-yi's artistic practice in painting, sculpture and contemporary ink art, have taken them on a journey of creative discovery, leading them to passionately engaged in public art projects both locally and abroad. Their work sought to harness the power of art that engages with and impacts the community.
This exhibition revolves around the themes of mindfulness, mental health, and community art, all of which stem from Mok and Man's self-scrutiny in delving into their 'Heartfield' in Chiang Mai, Thailand. The duo, along with their families, took a break from the hustle and bustle of city life, retreated to a rural estate where they reflected on themselves, immersed themselves in nature, and relearned the authentic way of life. The act of 'planting' serves as a metaphor for the daily practice of self-reflection and perceiving the fundamental of life cycles. Drawing inspiration from nature, the artists have created this series of works that incorporates recyclable bamboo as the material. The process of creative reflection and artistic contemplation in this exhibition not only serves as a powerful means of purifying and revitalizing the soul but also emphasizes the interconnectedness between individuals and the power of mutual inspiration. The inspiration resembles a resonance where the distinction between self and other dissolves in the face of artistic expression. Its power unites individuals to come together in a continuous cycle of creation and inspiration, weaving a tapestry of shared experiences that connect us all. The artists have invited viewers to leave their messages on bamboo bricks, which are then transformed into a bench. Meanwhile, the words and phrases on the fabric are rubbed from the bamboo cups visitors used to plant Mexican mint, transforming the exhibition space into a tranquil corner of the community.
The Department of Art and Design of the Hang Seng University of Hong Kong has invited Mok and Man to engage with students, educators, and the surrounding community, introducing them to the beautiful concepts explored in the exhibition. The library is a place for reading, contemplation; it is an intellectual space for the pursuit of knowledge, and the exchange of ideas. The art exhibition, therefore, becomes a natural extension of the library's mission, offering a space for the cultivation of aesthetic sensibilities, the nurturing of creativity, and the fostering of social connections. Nearly ten students from the university were actively involved in the preparation and giving guided tours to visitors. They worked hand in hand with the artists to sow the seeds of a vibrant and prosperous 'Heartfield'.
「慈悲心與全情投入.共享寶貴的集體憶記 永續發展.再生活力與生生不息」
"ComPASSION Excitement, Enjoyment & Full Engagement Generation of Precious Collective Memories Sustainability Revitalization & Vivification"
歡迎出席開幕及參觀展覽!
All are welcome to attend the opening and visit the exhibition!