ROLLING STYLE: 3D Print Wheel Design
14 – 28 Dec 2022
G/F, Library, S H Ho Academic Building, HSUHK
Opening: 12:00 pm, 14 Dec 2022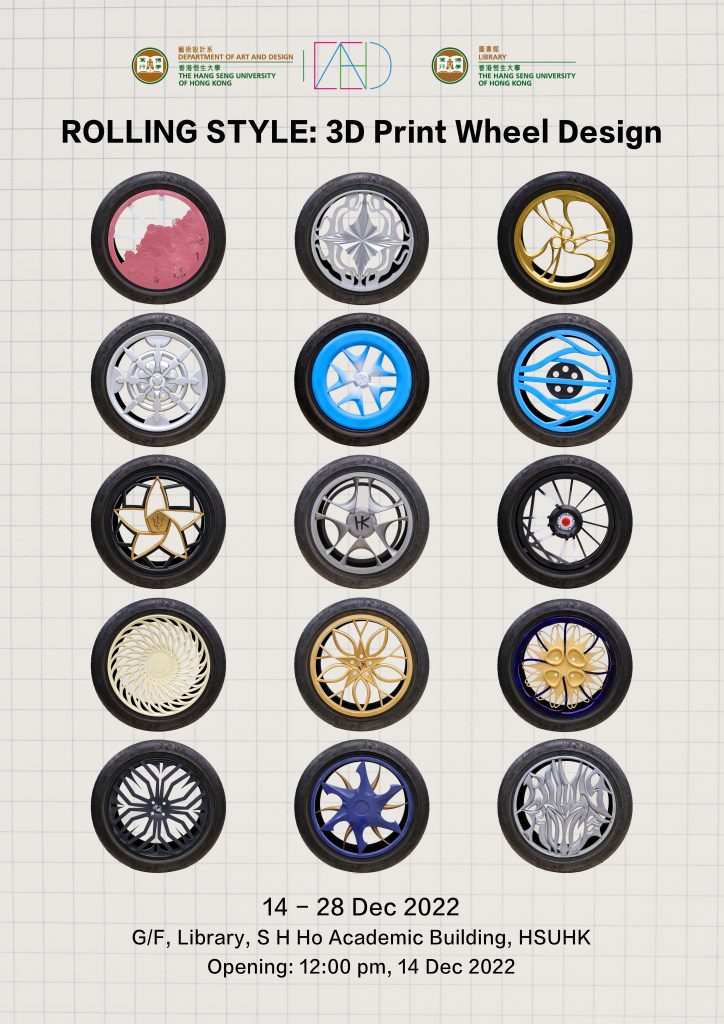 Prologue
This exhibition showcases the outcomes of the first project from AD2001 Studio II: Objects, Products, and Machines by BA-AD Year 2 students for the Second Semester of AY2021-22.  This exercise is inspired by the latest trends in automobile design and the styling of individual parts – in particular the wheel. 
This project aims to teach students to tackle a basic product design exercise with simple functional requirements and to concentrate on product aesthetics.  Each student is tasked with designing one style wheel and the following:
• research various types of automotive
• select a specific type of automotive to design for
• create mood board to visually present the design
• create diagrams/ hand sketches to illustrate the design direction
• create 3D files of the final design for 3D printing
• hand sand and polish the full-size 3D print model produced by the sponsor
• hand spray the model with the designated colour and finishes
• fit the wheel to a real tire and present the design
We are very grateful, with the connection of our Adjunct teacher Alan Yip, to have obtained the sponsorship from Ka Shui Manufactory Co Ltd for the full-scale 3D printing of 15 wheel designs by our students.
Desmond HUI
Professor and Head 
Department of Art and Design
BA-AD Year 2 Studio Teachers:
Mauro ARRIGHI
Laura CAVANNA
Rochelle YANG
Alan YIP