'Seminar on CGCS Database: Data for Culture and Arts' by Prof. Desmond Hui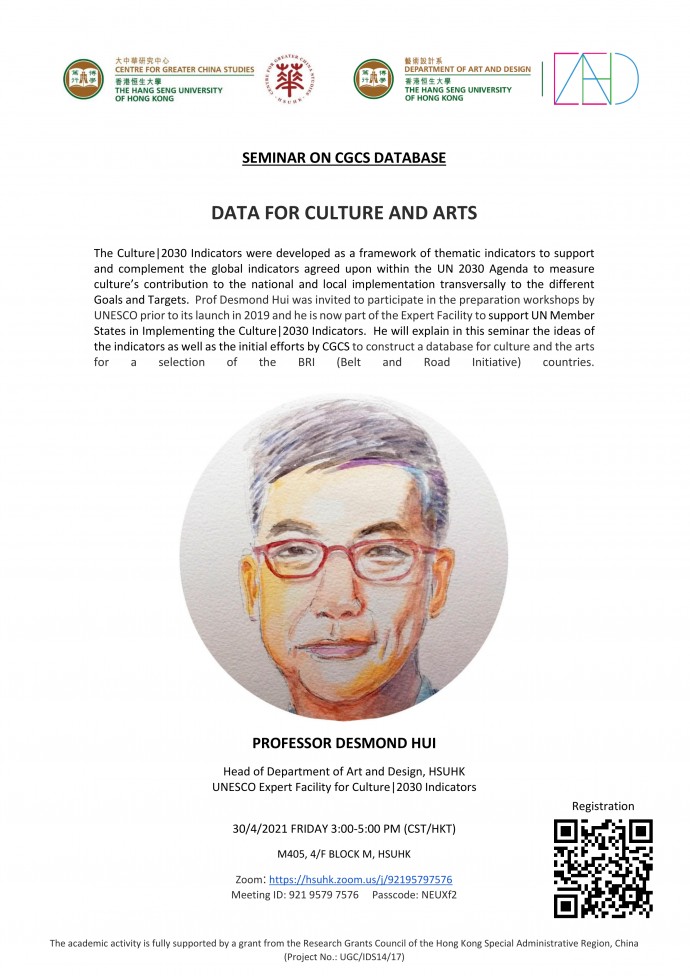 The Centre for Greater China Studies (CGCS) would like to invite you to join a seminar fully supported by a grant from the Research Grants Council of the Hong Kong Special Administrative Region, China (Project No.:UGC/IDS14/17):

Date: 30 April 2021 (Friday)
Time: 3pm – 5pm
Language: English
Registration: Here
Seminar on CGCS Database: Data for Culture and Arts 
Introduction:
The Culture|2030 Indicators were developed as a framework of thematic indicators to support and complement the global indicators agreed upon within the UN 2030 Agenda to measure culture's contribution to the national and local implementation transversally to the different Goals and Targets.  Prof Desmond Hui was invited to participate in the preparation workshops by UNESCO prior to its launch in 2019 and he is now part of the Expert Facility to support UN Member States in Implementing the Culture|2030 Indicators.  He will explain in this seminar the ideas of the indicators as well as the initial efforts by CGCS to construct a database for culture and the arts for a selection of the BRI (Belt and Road Initiative) countries.

Speaker:
Professor Desmond HUI [Head and Professor, Department of Art and Design, HSUHK]
Professor Desmond Hui obtained Bachelor of Architecture from Cornell University; Master and Doctor of Philosophy in History of Art and Architecture from the University of Cambridge.  A registered architect in both Hong Kong and Canada, he has held Visiting, Honorary and Adjunct Professorship in Mainland China and Hong Kong.
About Centre for Greater China Studies (CGCS)
CGCS aims to provide a platform to enhance interdisciplinary research concerning Greater China region.


For enquiries, please feel free to contact us at cgcs@hsu.edu.hk or 3963 5613.